UKRAINIAN RAILROADS CHAO
Task set
Automation of calculations and transfer to consumers the actual time of arrival / departure of the train, broadcast information on the information boards and plasma screens, forming the established analytical information on the basis of navigation data and the train schedule.
Proposed solution
ASA-TRACK-NOT system of automated passenger information service.
Ground equipment:
telematics server main and standby;
Application server – main and reserve;
Workstation of the depot duty officer;
Duty Engineer Workstation;
ARM OPO-E with plasma panel;
PTC "RITA-S" ("K", "P").
Onboard equipment:
onboard intelligent complex BIKL-01(02, 03);
Engine driver's multifunctional indicator (MFI) – panel computer (tablet 7″);
GPS/GSM mobile navigation terminal;
GPS/GSM combined antenna;
check and alarm panel (version without MFI);
converter of locomotive power supply.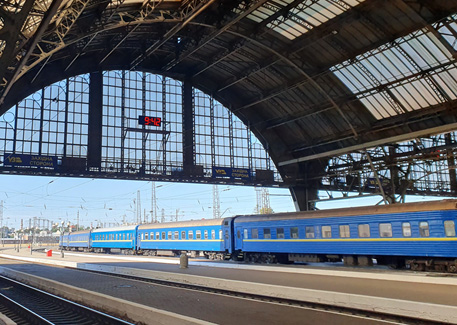 Work performed and results achieved
ASA-TRACK-NOT system of automated passenger information service was designed and successfully implemented:
Telematic server
Telematic server is a hardware-software complex, built on the "client-server" technology using modern telecommunication technologies, with the installed complex of server software connected to the Intranet. It provides information exchange between the components of the AS, configuration of onboard modules of various modifications.
Application server
provides interaction with telematics server, storage in database of navigation information received from mobile objects, interaction with information-automated railroad systems.
Depot duty officer workstation
Provides monitoring of operational train conditions, control of operability of equipment of various modifications, review of archive records of the location of equipped suburban electric trains, reports on the adherence to schedules, the level of GSM coverage, the train number assignment in case of the lack of identification.
Duty Engineer Workstation
Provides control of information exchange between the telematics server, on-board means of various modifications of BIKL and RITA modules of various modifications. ARM DI is a hardware and software complex based on "client-server" technology, connected to the corporate network of ASC VP UZ.
AWS of operational train situation
Displays on the plasma display the location of electric trains and the results of calculations of the traffic schedule
RITA-C" module
Data exchange with a telematics server, automatic reception of signals to passengers about the actual time of arrival / departure trains, control of information LED displays and voice synthesis system, receiving and displaying the schedule, the formation of alerts for occupational safety. The availability of modifications is connected with the data transfer method – Ethernet, GPRS-Internet.
On-board complex
Provides driver with calculation and graphic information for maintaining the train schedule; sends GPS navigation data to the server, identifies train number.
ASA ENGINEERING has for many years been providing complex software and hardware solutions for the main transport company of Ukraine – UZhD.